Our reader Hartmut Morgeneyer contributed photos taken at the Stalag Memorial in Karl Marx Street, Kursk, Russia.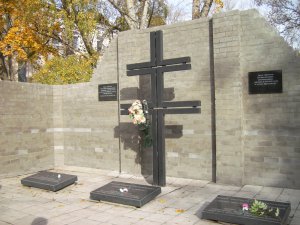 The inscription on the plaque reads:
Here rest
Soviet prisoners of war
killed in 1941-1943
in a branch of the German camp
STALAG 308 (VIII E).
Their number is unknown.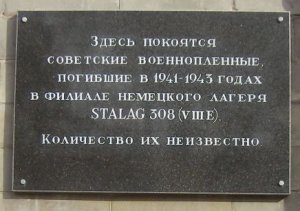 So far, we had had no knowledge of this POW camp whose official name was probably Stalag 308 (VIII E)/Z. It was a branch camp (Zweiglager) of Stalag 308 (VIII E). The main camp changed its location several times. It was moved from Neuhammer am Queis (now Swietoszow), Poland, to Sumy, Ukraine, and finally to Bathorn, Germany. Another POW camp in Kursk was Dulag 314.